Upcoming Events
I love how stories let me slip out of my own life and slip into a different one. Through books, I've lived a thousand lives instead of just my own. When I meet new people, even if their lives are very different from mine, I try to imagine how life feels to them. Reading stories is great practice at putting yourself in other people's shoes, which is essential for making good friends … and maybe even creating world peace!

—

Laura Resau, Red Glass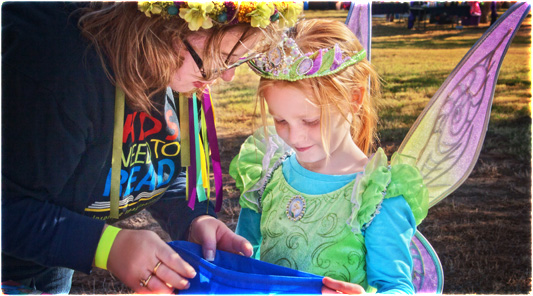 Please come join Kids Need to Read at any of our events. We are always busy making new plans and there are several groups putting on their own fundraisers on our behalf.
November 23, 2013
Project Hero Hunger Games: Catching Fire Movie Night and Book Drive for Kids Need to Read
AMC Westgate 20 Theaters
9400 West Hanna Drive, Glendale, AZ
6:30–8:30 PM (Movie starts at 8:45 PM)
Our friends at Project Hero are hosting a viewing of the new Hunger Games: Catching Fire movie AND holding a book drive for Kids Need to Read! The Project Hero gang will be in full Hunger Games attire to help celebrate the annual games. They will also be collecting new children's clothing and nonperishable food items, so if you can help out there, please do. Everyone will be attending the 8:45 PM showing of the movie . . . and it gets better! For every item donated (worth more than a dollar), you will receive a raffle ticket for a chance to win some fun Hunger Games prizes! The drawing will take place before the movie starts. We hope you can join us, and may the odds be ever in your favor!
---
December 13–15, 2013
Phoenix Festival of the Arts
Margaret T. Hance Park
1202 N. 3rd Street, Phoenix AZ 85004 (Park above the I-10 Interstate freeway)
10:00 AM–5:00 PM (Entertainment until 9:00 PM Friday and Saturday)
Kids Need to Read is very excited to be a part of this year's Phoenix Festival of the Arts! The second annual Phoenix Festival of the Arts will take place in the heart of downtown Phoenix at Hance Park. This year's theme explores Placemaking—the idea that our creative and cultural activities can transform our communities. Attendees are invited to explore this idea with us through film, drama, music, mural making, and so much more. In addition to the many arts and cultural organizations participating as vendors and exhibitors, art lovers will be able to enjoy local food truck cuisine and top-notch performances taking place on two stages.
Kids Need to Read will have a booth, and have our amazing calendar prints, copper cuffs and bookmarks, peace bags, and other items for sale. We will also have free goodies for the kids! We hope you can join us at this family fun event! It is a great place to get your holiday shopping done. We look forward to seeing you!