Kids Need to Read wants to inspire a Reading Revolution!
A vibrant imagination, strong character, and the confidence needed for a successful future. . . . So often these basic traits remain under-developed in the very students who need them most. That's why Kids Need to Read is helping to stage a revolution—a Reading Revolution! In partnership with Arizona State University and ASU Preparatory Academy, Kids Need to Read has developed a uniquely interactive program that immerses middle school students in a world of literary experiences while teaching them, first-hand, the impact of reading on every aspect of life. With a focus on enhancing literacy skills and nurturing youthful ambitions, the Reading Revolution program aspires to significantly reduce dropout rates among adolescents by empowering them with control over their own bright futures.

Kids Need to Read understands that it is not enough to explain to children the importance and benefits of literacy. That is why Reading Revolution actively accompanies participating students through every step of an integrated, multi-year program. By bringing together various facets of a student's education through projects targeting respect, the need to stay in school, and the importance of reading, this program complements a school's existing curriculum and enriches a child's learning environment by providing ongoing, hands-on project support and the resources necessary to encourage a life-changing love of reading.

Already in action in the greater Phoenix, Arizona area, Reading Revolution is now connecting middle school students to a new life of literacy by engaging them in a series of study units over a three-year period. Many of the students involved entered the program with exceptionally low literacy skills and many come from low income families. For some of these children, interest in reading or academic achievement had long been lost. Through this program, however, Kids Need to Read has re-engaged students with an introduction to literacy like nothing they had ever experienced.

The first unit of study is a science fiction-themed project featuring much more than books. In addition to class sets of text, study materials also include computers, eBooks, an online multimedia game, a live author presentation, and an unexpected visit from "aliens." This first unit of study further enriches standard curriculum by directly connecting English language arts coursework with science, math, and social studies classes. This diverse network of study provides students with a daily, real-world emphasis on the importance of reading in every facet of life.

The second unit of study is designed to help students evaluate peaceful means of resolving conflict and overcoming adversity. A study of World War II within the students' social studies curriculum is enhanced by the introduction of class sets of twelve book titles, grouped by similar themes and divided into two different reading levels. Symbolism and theme similarities are explored in English language arts literature circles.

Unit two also features a special, highly-inspirational introduction to The 7 Habits of Highly Effective Teens. This presentation encourages students to explore a variety of topics, such as the life-changing power of reading, developing life missions, embracing positive life paradigms, and cultivating a healthy respect for all people.

Second and third year studies will employ a similar cross-curricular method, additional live author presentations, and multimedia methods to teach students the importance of strong character, as well as the value of reading on an imaginative and prosperous future.

With so many distractions vying for an adolescent's attention today, middle school is often a critical time when many children lose interest in reading and academic pursuits. By the time they enter ninth grade, these students often find their deficient skills and scholastic disengagement make it harder and harder to keep up with the curriculum. But tests conducted after the implementation of the Reading Revolution program indicated a significant improvement in reading skills among participating students.

With participating schools providing ongoing research into affected literacy rates, Kids Need to Read and its partners hope to offer proven methods of increasing reading skills and decreasing dropout rates. Future plans include the expansion and adaptation of this "Revolution" throughout the United States to any schools seeking cutting-edge programs to inspire their student body.

By teaming up with schools across the country, Kids Need to Read will continue to connect kids with books, and illustrate the connection of books with a brighter future. And by immersing students in such an enriched academic environment, Reading Revolution will help children take a proactive role in their future success while establishing books as a personal and life-long support system.
Learn more about Reading Revolution
---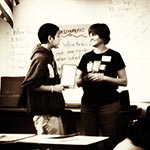 Reading Revolution Galleries
---
Reading Revolution Videos:
Kids Need to Read "Reading Revolution" Program


Inspiring Positive Life Paradigms


Dr. B Introduces New KNTR Books


Student Softwire Presentation at ASU Preparatory Academy, Part 1


Student Softwire Presentation at ASU Preparatory Academy, Part 2


Aliens Land at ASU Preparatory Academy