The Little Flame
The little flame set off into the world carrying respect inside her heart. Perhaps she could grow by shining her tiny light on others.

—

Denise Gary, The Little Flame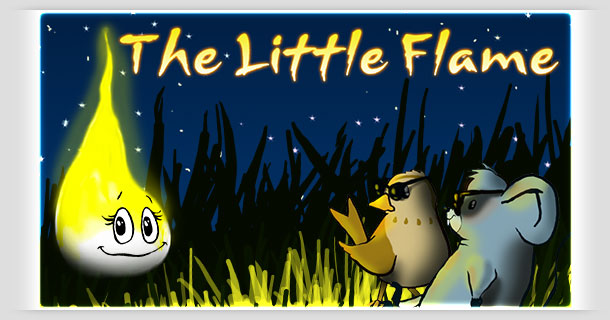 Written by Denise Gary
Illustrated by Steven Riley

Small, quiet, and just a bit fearful, a little flame sets out on a passion-filled journey of self-discovery, inspiring positive change along the way, and learning how to overcome the destructive forces of anger and grief to find her destiny as a blazing fire of global peace.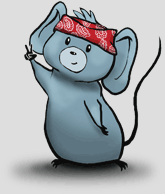 During her expedition, the little flame encounters a tall tree enamored by its own beauty, a noisy waterfall captivated by its own voice, and a thick fog weighted down by its heavy pride. The little flame grows through good deeds, eventually striking up a friendship with the fog. But the fog's pride turns to jealousy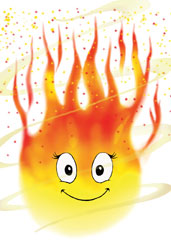 and cruelty, and soon a new feeling flares up inside the little flame—anger. Anger threatens to smother the light of the little flame. How does the little flame recover and what becomes of her?
The Little Flame is an allegorical fable using physical phenomena to represent outstanding traits, as well as frailties of humankind, imbuing our natural world with spirituality and wonder. Fanning the flames of peace, tolerance, and compassion among young and old, this children's picture book illustrates the ability to do more than you ever thought possible through integrity and perseverance, while emphasizing personal peace as the first step toward global peace.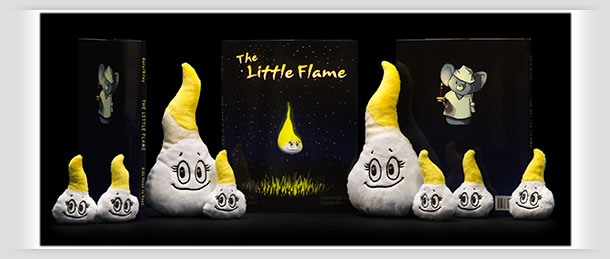 I just got my copy today and was truly moved. The Little Flame is such a great way to reinforce life's lessons and be aware of the world and those around you. I look forward to sharing it with the children I mentor and pass through life. Hope there are more copies I would like to order them for the teachers in my son's school.

—

Rachel Boone-Reichardt, June 18, 2014
The Little Flame books and plushes are available in our online store! All proceeds are used to reprint The Little Flame to give to children who will benefit most from this tale of kindness, hope, and peace as part of Kids Need to Read's programs.
---
The Author: Denise Gary
Denise Gary is co-founder and executive director of Kids Need to Read, a national nonprofit foundation providing books and literacy programs to disadvantaged children. In addition, Denise is a co-founder and volunteer of RMG Imaging Artists LLC, training adults with Autism Spectrum Disorder in Multimedia and Marketing Technology. Denise was a home school teacher for her two sons during their junior high and high school years. This fuels her desire to help reluctant readers learn the power and joy reading can bring to their lives.
The Illustrator: Steven Riley
Dr. Seuss, Maurice Sendak, Jim Henson, and Walt Disney were all Steven Riley's childhood heroes, and are to this day. Reaching kids through imagination and entertainment while teaching them real life lessons is something he experienced through these men in his childhood, and something he continues in the lives of children touched by his books and programs. Steven is the author and illustrator of the Little Ty Cooney National Wonders series of children's books. He has traveled the country for many years inspiring children everywhere with his highly entertaining and secretly educational programs. He lives just outside Yosemite National Park with his wife, Julie and their two daughters, Peyton and Savannah.
---
The importance of reading extends far beyond the mechanics. Its greatest power is determined by how each person uses reading to shape their lives. Thank you to the following "sparks" for believing in the power of The Little Flame!